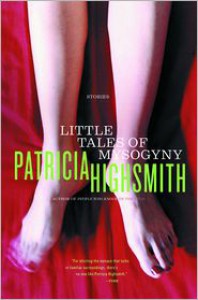 I was saving this collection for a rainy day, and yesterday – day 1 of a nasty, unexpected sinus infection – was exactly when I needed to read this weird little book. (I still have said blitzkrieg infection, so please don't expect too much from this review.)
This book is very short, as are the individual stories contained therein. As for the misogyny of the title, it puts me in mind of Virginia Woolf's ponderings in
A Room Of One's Own
when she was asked to speak about women and fiction. Does that mean women and the fiction that's written about them, or the fiction that women read, or the fiction they write, or a combination of all of these, or something else altogether?
Similarly, even after reading this book, I have no idea if saying that these are little tales of misogyny means that the author hates women and has written stories to reflect that hatred, or if these are simply tales about misogyny. And if it's that last one, are these stories that celebrate misogyny, or that merely reflect it? Or could they be both?
And how is all of this complicated by the fact that the author in question is not only a woman herself, but one who was at least bisexual and possibly best described as a lesbian?
I probably wouldn't be able to figure all that out even if I were well. With my head stuffed up the way it is now, there's no chance.
All I know is I burned through this book and wish I were well enough to go to the library to get more of Highsmith's stories.
This is one of those pass/fail books. There's no room for neutrality here. You'll either eat these stories up like potato chips, or you'll be left cold and possibly repulsed by them.
Or you might do all of the above. Because as I mentioned, this is a weird, weird little book.